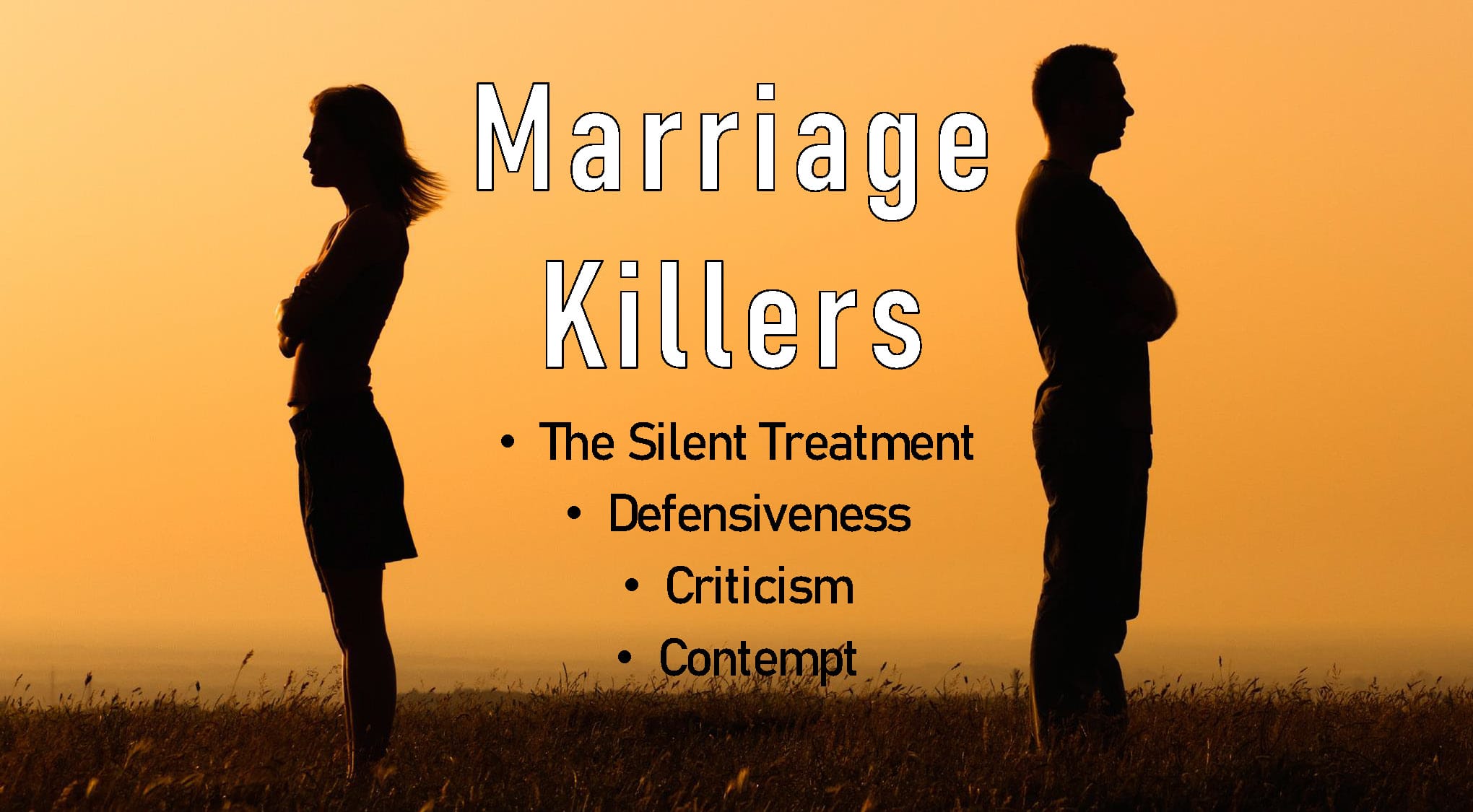 Avoid These Marriage Killers
Let's face it – we've all probably been in a situation where we are arguing with our partner and start to become unkind in the process. Anger flares, insults are hurled, and now the difficult situation we found ourselves in has gotten increasingly worse. There's many factors that can get in the way of a good marriage, but often, they're the small, unnoticed things that make their way in. In order to make sure our marriages survive and thrive, here are 4 marriage killers every couple should be on the lookout for: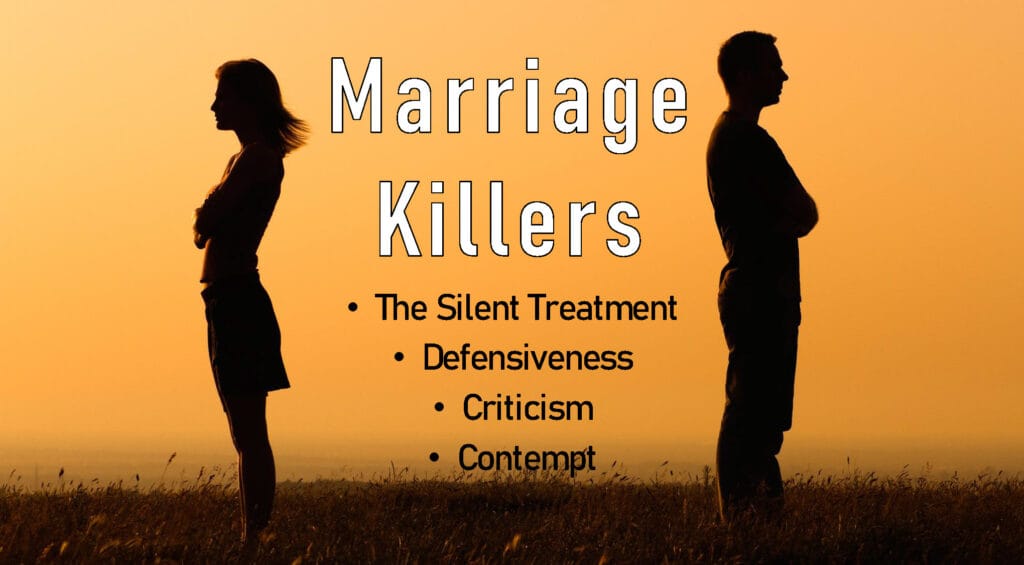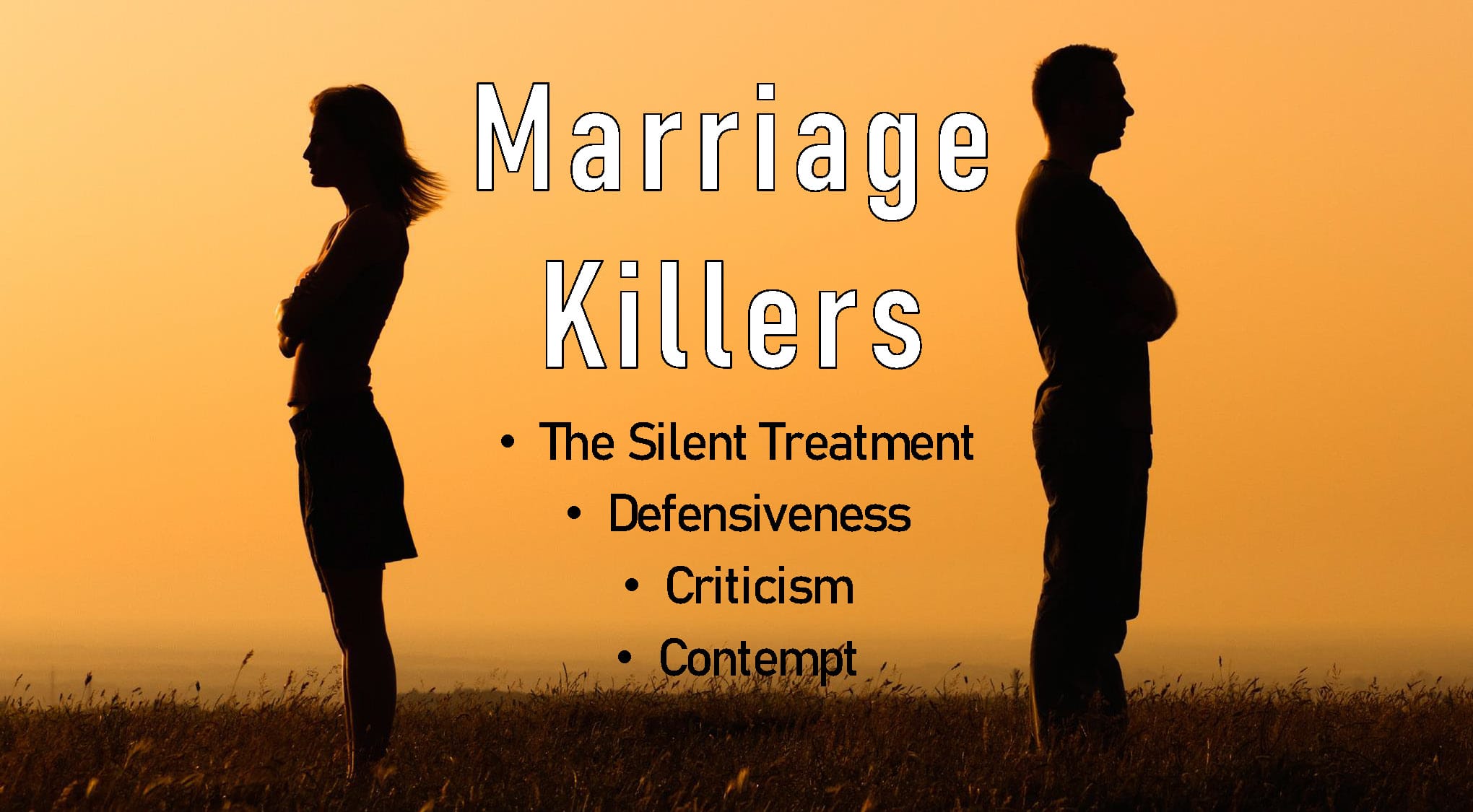 The Silent Treatment
This behavior shuts off all communication and is used as a weapon of manipulation. You withdraw from the interaction. It's sometimes a way to shutout stimulation when feeling attacked. You're simply unresponsive. Learn to process your emotions when under stress. Communicate that you're feeling overwhelmed / attacked and need time to process. If you find yourself consistently resorting to this behavior, it's beneficial to seek out counseling to understand why this is your default response to conflict.

Defensiveness
You completely shut out what your partner is trying to say and instead you avoid accountability for your part in the conflict. It's used to protect against feeling blamed – a form of counter attack. Realize that in every conflict, there are two sides. Accept responsibility for even part of the problem. Demonstrate a willingness to see your role in the problem.

Criticism
This is pointing out something negative by blaming a personality flaw verses the actual behavior. It's about who a person is… a character assassination. This marriage killer is a form of verbal abuse and an attempt to tear down the other person's self-esteem in order to obtain the outcome the critic desires. To combat criticism, use a gentle start up to a conversation. You can complain without attacking or blaming.

Contempt
Once criticism has taken root, the heat gets turned up to contempt. Tone of voice is the most powerful weapon in contempt. It diminishes another person in order to belittle or put them down. You portray harmful feelings of disgust, disrespect, mockery, name-calling, sneering or hostile humor. Build a culture of appreciation and respect in your relationship. Look for the good in the other person and seek to restore the relationship through asking for forgiveness.
I think it's important to remember that we're all probably guilty of a few of these marriage killers on occasion. However, a pattern of these in your relationship should really serve as a red flag for you and your partner.