Become the most connected couple you know with this Long Island weekend workshop to help you & your partner enhance closeness, communicate better, and experience a deeply fulfilling & lasting relationship.
SAT & SUN, SEPTEMBER 21 & 22, 2019, 9:30-7:00 PM
575 Broadhollow Road Melville, NY 11747
(MAKE IT A GETAWAY: located across the street from Hilton hotel.)
Your relationship is much more likely to be a long, happy one if you and your partner both make an active effort to communicate, both well and often. If you want to learn the secrets to long-term relationship success, attend our weekend workshop or contact me today for more information on couples counseling.
Breakfast, refreshments & snacks included.
$545.00 per couple.
** This workshop is designed for married and single couples of all gender and sexual orientations.

The New York Times Bestselling Guide to transforming an intimate relationship into a lasting source of love and companionship.
Getting the Love You Want has helped millions of people experience more satisfying relationships and is recommended by professional therapists and happy couples around the world.
TRANSFORMATION IS NEAR
·     Become passionate best friends again.
·     Learn how to end the power struggles.
·     Harness conflict and redirect to growth.
·     Start the journey of healing.
For more info., contact Robin Newman (631) 421-4701.
Do any of these describe your relationship?
Do you LOVE each other, but feel DISTANT & DISCONNECTED?
Do you want more ROMANCE & INTIMACY?
Do you WONDER what happened to the PASSION of earlier days?
Do you wish you ARGUED less & TALKED more?
Are you ANGRY all of the time & easily IRRITATED?
Do you long to feel more CONNECTED?
Then JOIN US for our next GETTING THE LOVE YOU WANT weekend couples workshop!
Photos of our space in Melville, NY for Long Island couples workshops: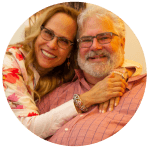 Robin Newman, LCSW, and her husband Don will guide you and your partner to deeper levels of connection and wholeness using Imago Relationship Therapy, a transformational approach that allows you to experience new levels of safety and appreciation.