Long Island Couples Workshop March 2 & 3, 2019
Long Island couples workshop presenter, social worker and professor Robin Newman will guide you and your partner to deeper levels of connection and wholeness using Imago Relationship Therapy, a transformational approach that allows you to experience new levels of safety and appreciation. Restoring passion and hope to your relationship, Imago brings you healing, wholeness, and spiritual growth.
This workshop is designed for couples of all gender, marriage and sexual orientations.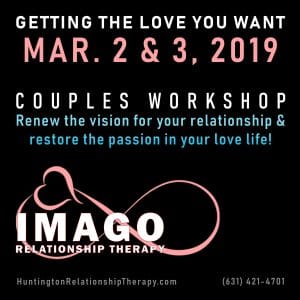 GETTING THE LOVE YOU WANT COUPLES WORKSHOPS TEACH YOU TO:
Speak a new language with your partner
Say goodbye to the bad stuff
Say hello to the good stuff
Manage your relational fears
Convert frustrations into wishes
Shift from judgment to wonder in your relationship
Don't miss it! If you're struggling to find connection with your partner, this Long Island couples workshop will give you the tools to succeed. This is a 100% supportive space.
Get professional counseling from a licensed therapist in this boot camp couples workshop!
Imago is a type of relationship therapy which provides a unique opportunity for couples to learn how to use the issues that they have in their relationship for growth and healing. It offers communication tools that will allow both people to feel safe and connected as they talk about their problems, instead of entering the painful "power struggle".
148 East Main Street #102 Huntington, NY 11743
Breakfast, refreshments & snacks included.
Limited space for 5 couples.
$545.00 per couple.
Call today to register (631) 421-4701
Getting the Love You Want has helped millions of people experience more satisfying relationships and is recommended every day by professional therapists and happy couples around the world.
Become the most connected couple you know with this revolutionary weekend workshop to help you and your partner recapture joy, enhance closeness, and experience the reward of a deeply fulfilling relationship.
Rediscover the joy you once had in your relationship.
Renew the vision for your relationship.
Restore the passion in your love life.
This workshop can make all the difference!