Getting Through Hard Times
It's easy to love when we are blissfully happy, when we are in love and everything is running smoothly, but love is tested in hard times developed in crisis and reaches its full maturity when unexpected tragedies unfold. So, although we never seek or welcome tragedy, we need to remember that there is a hidden jewel stitched into the hem of its garment. Getting through hard times invites the enlargement of love in us, and stretches us beyond our limits, so that we find that our love expands.
"In conflict, there is growth."
A relationship goes through numerous phases during its life cycle, and it's obvious for it to have a few rough patches. The strength of a relationship is reflected in how couples deal with getting through hard times and moving ahead.
Couples' counseling intensives are 1 1/2 days on the weekend in Huntington, New York. Treated as a "boot camp" for couples who wish to improve communication, intimacy, and understanding. Robin & Don teach couples specific communication techniques that will allow both people to feel safe and connected as they talk about their problems, instead of entering the painful "power struggle".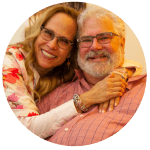 Robin Newman helps couples break through barriers to achieve greater understanding, connection and intimacy.
(631) 421-4701