Anger is a natural response humans have to certain situations, and it should in no way be something we're ashamed of. However, having troubles controlling your anger can be an issue. Problems with anger management, often called having "anger issues," only becomes a problem when you can no longer control it.
Anger shows itself as saying or doing things that harm you or others around you.
Uncontrolled anger can physically and emotionally harm you if you do not recognize or take steps to reduce it, and the first step is to identify if you have this problem.
There's many different cues to help identify if you struggle with anger.
Common behaviors can include:
struggling to compromise in an argument or meeting
having difficulties expressing emotions in a calm manner
ignoring others when angry
isolation
self-harm
shouting / cussing
physical violence
substance abuse or addiction.
Not all of these immediately point to troubles with anger management, but a few paired together could be a sign that you might have trouble with it.
The next step is to find out what triggers these emotions.
Triggers can stem from mental illness, short term triggers, and/or individual triggers. Mental illness like depression, OCD, and substance abuse can bring forth anger issues which link to anxiety, meaning this is one of the most important triggers to nip in the bud.
Short term triggers can include injustices, feeling you are not being heard, remembering a past trauma, or losing patience. These are common triggers for feeling upset in general, but they could also be amplified if you have problems with anger.
Lastly, we all have individual triggers, examples of such include political views, religious beliefs, or other subject matters that relate to who we are. It is helpful to identify these so that we can react calmly in these situations.
Anger is unhealthy for many reasons, including mental and physical illnesses.
Misdirected or unexpressed anger can lead to poor cardiovascular health and/or heart disease. Anger and stress can also lead to higher blood pressure, which can cause a blood clot or bleeding within the brain. You are three times more likely to endure this bleeding or a stroke in the hours after an outburst, putting you at risk for a fatal incident. Lastly, when you are angry, you release stress hormones, which can affect your airways and lungs and can lead to poor respiratory health.
Because of both the physical & mental stress anger brings, it's important to reduce outbursts.
There are some strategies you can implement to help with this. First, recognizing when you are upset so that you can de-escalate the situation.
Next, trying to think before you react. This gives you time to process what the best reaction could be to benefit not only you but the people around you.
It can also be helpful to talk to people about your situation. You could talk to others who are not involved about what you are going through or feeling at the moment.
Many people exercise in their spare time, and this releases chemicals that make you feel happy and refreshed. If you enjoy exercise this may be a viable solution.
You can also practice being more assertive, helping to express your opinion in a calm and efficient way to the people around you.
Lastly, you can use apps for peer support, mindfulness, and relaxation. There are many peer support groups and platforms where people share their own experiences and journeys, many meditation apps that can help reduce stress, and overall just many apps that can help with relaxation such as white noises, calming games, and more.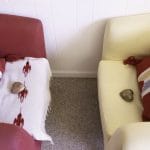 If you feel that you are overwhelmed by your struggles and need professional support, consider talking to a counselor.
For more info. on anger management counseling, contact Robin Newman, LCSW today.
Robin Newman, social worker & owner of the Huntington Relationship Center in Long Island, NY.